Did you Know
South Africa has the third highest level of biodiversity in the world.
South Africa has the oldest meteor scar in the world. The meteor plummeted to Earth nearly two billion years ago, predating the heady days of oxygen and multi-celled life. The Vredefort Dome was recently declared a World Heritage Site.
The rocks around Barberton in Mpumalanga are some of the most ancient in the world - over three billion years old.
The Tugela Falls is the second highest waterfall in the world, where the water tumbles down 850 metres. [First place goes to the Angel Falls in Venezuela at 979 metres].
Blyde River Canyon is the third largest canyon in the world (and the largest 'green canyon'). The Grand Canyon in the US is the biggest, and second place goes to the Fish River Canyon in Namibia.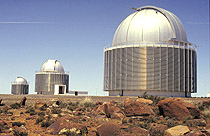 This dome-shaped telescope and its giant spider-like contents comprise the largest telescope in the Southern Hemisphere
Most of the world's proto-mammalian fossils are found in the Karoo region - along with a 280 million year old fossilized shark.
According to recent studies, the star-watching town of Sutherland in the Northern Cape is one of the most geologically stable places on Earth, yet it has a 66-million year old volcano, not yet officially extinct.
Kimberley may have the biggest man-made hole in the world, but the southern Free State town of Jagersfontein has the deepest vertical man-made hole.
South Africa is home to the world's smallest succulent plants (less than 10 mm) and the largest (the baobab).
The only street in the world to house two Nobel Peace prize winners is in South Africa. Nelson Mandela and Archbishop Desmond Tutu both have houses in Vilakazi Street in Soweto.
The world's first heart transplant was done in South Africa in 1967 by South African Dr Chris Barnard.
South Africa, Zimbabwe and Mozambique are tearing down fences between the countries' game parks to create a 35 000 square kilometers game park which will become the largest conservation area in the world.
South Africa is ranked number one in the world for its floral kingdom.
South Africa's Coastal Management policy is one of the best in the world with the country being the first outside Europe to gain Blue Flag status for its coastal management.
source www.southafrica.net