Image
South Africa is a large country, with a big diversity of geographical areas, landscapes, people and cultures, places of interest, wildlife, cities and town, and more. So the focus always is to capture this variety on offer, at the right time of the year to maximize the guest's enjoyment of the trip. Tours are planned to ensure guests not only see but also experience South Africa. This is achieved by having less travelling time, short distances per day, no travelling at night, avoiding travelling along the same route twice, many convenience and sightseeing stops, doing interesting excursions and activities, choosing the right places to stay and eat, and allowing for flexible itineraries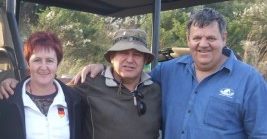 Johan of African Timeout was established in the year 2000, Henry & Annekie established Catz Tours & Safaris in 1999 and both companies are registered tour operators for tourists travelling within South Africa. Our Hola partner based in Cape Town is Wayne Milne of Take 2 Tours giving the Hola Tourism Network the national spread it deserves. The businesses are owner-managed, with 43 years of experience in the South African tourism industry between the three of us. Over the years the three of us have earned a good reputation for professionalism, client orientation, cost efficiency, integrity and value for money. We also specialise in small group tours, between 4 and 7 passengers, and each tour is planned around the guest's needs and interests, and to ensure friendly, safe and personalised attention.Annekie , Henry, Johan
We are proud and loyal South Africans, based in the north of Johannesburg, with extensive travelling experience in SA. We also follow principles of being life-long learners; we continue our studies of South Africa and its people, to share with our guests. Our personal involvement and attention to detail ensure the success of the tours.
South Africa is a large country, with a big diversity of geographical areas, landscapes, people and cultures, places of interest, wildlife, cities and town, and more. So the focus always is to capture this variety on offer, at the right time of the year to maximize the guest's enjoyment of the trip. Tours are planned to ensure guests not only see but also experience South Africa. This is achieved by having less travelling time, short distances per day, no travelling at night, avoiding travelling along the same route twice, many convenience and sightseeing stops, doing interesting excursions and activities, choosing the right places to stay and eat, and allowing for flexible itineraries
Our focus is still on variety, with some new trips, some shorter trips, some popular trips and special requests. The new season's trips have been designed with you, the traveller in mind.
This includes:
• Picking guests up and dropping them off at their homes.
• Travel in small groups, with between 4 and 7 persons in the traveling party.
• Limited driving distances per day in a quality vehicle, no travelling at night.
• Traditional "coffee and photo stops" along the road: anywhere safe to stop.
• Visiting "small dorpies" and doing many convenience stops -every 2 hours.
• Flexible itineraries to unique locations off the beaten track.
• Quality star graded and approved accommodation and excellent meals.
• Seasonal travel outside school holidays with fun activities and more.
• The focus of every tour is for you to really experience and enjoy the journey and attractions on route, and not only to arrive at the end destination.
All tours are guided by registered South African Tourist Guides with a valid professional driver's permit + license. Our businesses and vehicles are fully compliant with all relevant Tourism and Road Transportation authorities, with a valid road transportation permit and passenger liability insurance cover. Proof of all legal requirements is available on request.
Please don't wait too long before you decide. And do not hesitate to call Annekie if you have any questions about any of the trips, or want to have a private trip designed according to your needs and dates available.
• Contact details: Annekie Zeiler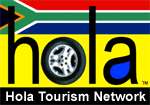 • Office telephone number: 011 782 5416
• Cell phone number: 083 470 0888
• Email: [email protected] or direct online Contact form
For Booking or information please contact Annekie Zeiler , Cell No: +27 (0) 83 470 0888, Office No: +27 (0) 11 782 5416, Email : [email protected], Click here for online bookings