The Madikwe Game Reserve, situated against the Botswana border, 90 km north of Zeerust, just three hours' drive from both Johannesburg and Pretoria, is now one of South Africa's prime safari destinations. Madikwe is a Big Five game reserve covering some 75,000 hectare. It is one of the largest game reserves in South Africa. The rich diversity of vegetation ensures a wide range of game and the topography offers ideal game viewing opportunities.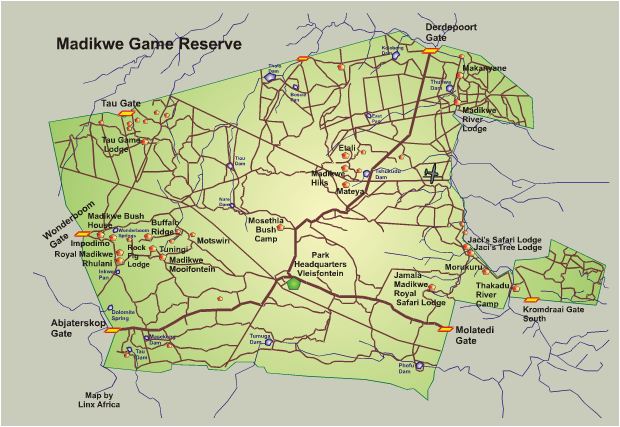 Madikwe is home to 66 mammal species including the Big Five and approximately 300 resident and migrant bird species. It is one of South Africa's largest game reserves.
The reserve consists of vast plains of open woodlands and grasslands, dissected by the rugged Rant van Tweedepoort, and bordered in the south by the Dwarsberg Mountains. The area is dotted with huge rocky hills or inselbergs.
Booking a Madikwe Safari
African Timeout can book any of the following Lodges in the Madikwe Game reserve, as these reserves all have their own trained game rangers, our registered tourist guides will transfer you to your lodge and the return to collect you on completion of your bush experience
Rates at these lodges vary depending on season and time of stay so please contact African Timeout for a quote.
Rates are from R2500-R6000pppn
Road transfer:
You are transferred from your local hotel by air-conditioned minivan to your destination.
Cost R2700 per trip (1-7 People)4hrs traveling
Air Transfer:
you are collected and transfered by vehicle to the airport where you will board the transfer aircraft which will fly you out to Madikwe where you will be met by guides from your lodge
Cost Approx R4200 per person return.1hr flying time.
Buffalo Ridge Safari Lodge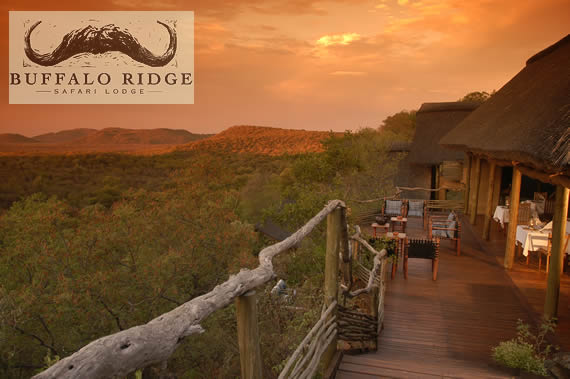 is a 16-bed luxury lodge situated in the west of the Madikwe Game Reserve, straddling the Tweedepoort Ridge with expansive views across the northern plains and Inselbergs.
Buffalo Ridge Safari Lodge is situated on the Tweedepoort Ridge overlooking the plains and inselbergs of the western section of Madikwe Game Reserve. The main lodge is spectacularly located on two tiers of the ridge and is accessed via a wooden bridge that crosses a ravine surrounded by rock figs. Each of the living areas has its own character, mood and style providing guests with a choice of breathtaking views and tranquil spaces.
The lodge has 8 thatched suites or chalets, decorated in natural hews of colour and texture, and with sliding doors from each room and shower. Each has their own viewing deck, offering a very private and luxurious experience.

Impodimo Game Lodge
Rise in the morning to an African dawn and enjoy an early morning game drive with your dedicated professional ranger. Relax as your ranger guides you through the bush on a custom made open Landrover, searching out the Big 5 or the smaller secrets of nature.
Set out on a foot safari with your armed ranger and learn the secrets of tracking African game or just enjoy the trees, birds and stunning scenery. Return from the excitement of the bush to a sumptuous breakfast or brunch and then relax at the pool or the sala overlooking the waterhole where game may come to quench their thirst. In the afternoon, when the heat of the African sun has diminished and the shadows are longer, head out again on a sundowner safari, where you will stop to watch the sun set on this bushveld paradise and enjoy your favorite sundowner drink.
Once the sun has set and darkness descends, set off again for a night safari where the more nocturnal creatures now rule the bush. Return to the lodge where you will be treated to the finest Pan-African cuisine with your hosts in the open air boma, and share your days adventures, while you enjoy a night cap around the fire.
Makanyane Safari Lodge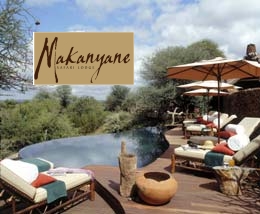 Makanyane Safari Lodge was designed by a team of award winning architects to effortlessly blend with the surrounding bush. The relaxed yet luxurious interiors complement the design perfectly, tastefully enhancing the atmosphere of comfort in this idyllic environment.
The lodge consists of a beautiful main building and eight stunning suites, which lie hidden in the lush forest, offering spectacular views over the tranquil Marico River. Situated on 1,800 hectares of private ground within the 75,000 hectare Madikwe Game Reserve, the lodge has accommodation for a maximum of sixteen guests, ensuring that each guest has privacy and individual attention.
Mosetlha Bush Camp & Eco Lodge
Mosetlha is family owned and run, a rustic and intimate, unfenced bush camp nestling at the very heart of the magnificent Madikwe Game Reserve. We are this Reserve's only authentic bush camp and genuine eco lodge – the unpolished gem in Madikwe's crown!
It is our mission to provide you with an exclusive and unique wilderness experience. In order to ensure guests our best possible attention, we accommodate a maximum of 16 people in nine double cabins.
The camp is unfenced and our guests are accommodated in true safari style in raised wooden cabins set amongst the natural vegetation around a central camp fire and lapa area.
Cabins have partly open sides and are arranged in adjoining or detached double rooms with twin beds and simple amenities. Duvets, pillows, blankets and towels are provided by us.
Whilst bathrooms are not en suite, they are essentially private – fenced toilet/shower complexes are discreetly situated amongst the cabins. We pride ourselves in our bushveld simplicity and do not have mod cons such as electrical power or running water - our showers are safari showers and water is heated through a donkey boiler … so you only have a cold shower if you want one!.
.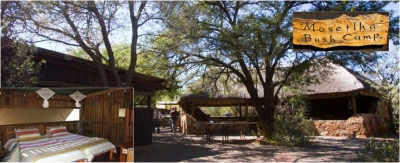 We believe our catering is of a high standard – we prepare all meals in the traditional bush style on the open fire. Included, too, are tea, coffee, fruit juice, rusks, fruit and snacks throughout the day and on your daily walks and drives. Drinks are sold at a nominal mark up and not at usual "hotel" prices.
It has always been our mission to provide an exclusive and unique wilderness experience for our guests, with minimal ecological impact on our surroundings. We were very excited to discover the following, written by Hitesh Mehta (who has, incidentally, been a guest of ours at Mosetlha) and are so proud to see that we successfully fulfil not only the required five, but ALL TEN of his suggested criteria for an "eco lodge".
Rhulani Safari Lodge

The adventure begins the moment you arrive at Madikwe Game Reserve. A wonderful welcome awaits you at the main lodge, Rhulani means "Relax" so sit back and enjoy! Creating Rhulani has been both stimulating and inspirational, we set out to transform the ordinary into the extraordinary, to build a modern day refuge, an oasis of calm, a place to nourish the soul and lift the spirit. We invite you to experience the serenity and harmony of this special place with us; come celebrate nature, celebrate life! Water cascades gently into the meandering rock pool around which you will find ample sun or shade provided by beautiful old Marula trees, an ideal spot for quiet contemplation. Indoors and outdoors merge effortlessly at Rhulani, ensuring you magnificent views of the bush. Sit and meditate awhile; your comfort is assured as you relax surrounded by earthy rich African colour and our warm hospitality.
Tau Lodge
Tau is a South African luxury safari lodge situated on the far northern border of South Africa, in malaria-free Madikwe Game Reserve, the 4th largest game reserve in the country.


27 major species of game roam this South African nature reserve, making Tau Game Lodge the ideal place for a safari holiday, offering Big 5 game safaris and bird-watching safaris.

 

Privately owned Tau Game Lodge, situated in the North West Province, can accommodate up to 60 people and offers an ideal South African conference venue as well as an idyllic wedding venue overlooking a natural waterhole.

Enjoy an authentic South African safari vacation in the midst of natural wildlife, complete with great game viewing and luxury private facilities, at our South Africa luxury safari lodge.

 

 
Bush House


Safari isn't just safari anymore…. And game lodges aren't all alike. Every visit really does need to be special and every moment something to be remembered forever.
The Bush House is not your typical Game lodge. The Lodge is set in the malaria free Madikwe Game Reserve. It is an old farmhouse that after years of family laughter and happiness has been transformed into an inviting and relaxing residence that encourages guests to kick off their shoes and unwind.
What makes the Bush House different?
Perhaps it's in the people who make you feel so warmly welcome, at the bar after your game drive, at the brunch table, or in the boma for dinner under the stars. We pride ourselves on really caring for our guests and being attentive to their needs. As an owner managed Lodge the personal touch is an integral part of our service.
Perhaps it's in the sense of the bushveld. The dust of the elephant herds, the closeness of the rhino, the fleeting glimpse of the leopard… or the massive power of the buffalo coming down to drink at the waterhole within meters of the front lawn.
It could be the luxuries you enjoy. The sumptuous bushveld cuisine or the service so close you only have to lift a finger. Or maybe it's more about the whole experience than a single sighting. More about the memories you made while you were one with nature as you pulled the bushveld around your shoulders like a blanket, and in a strange, familiar way you felt completely at home.
That's why people come back to The Bush House. Again and again. For most of our guests it's just like that, like coming home – even for the first time.
Tuningi
Welcome to the 5-star Tuningi Safari Lodge - a member of The Madikwe Collection and FTTSA certified - situated in the world renowned 165,000 acre malaria-free Big 5 Madikwe Game Reserve.
The private and exclusive, Tuningi Safari Lodge offers both local and international guests a superior product enhanced by an impressive Big 5 safari experience.
Tuningi is one of the very few 5-star lodges in South Africa that welcomes children and in by doing so, avails them of the wonders of nature, wildlife and our delicate eco-system.
The design brief, for the exclusive villas, was to create space by blending interiors with the bush through utilising retractable doors and windows wherever possible.
The theme of the décor is 'Colonial African chic' and the main thatched lodge offers a sumptuous lounge, a spacious dining room and a well-stocked bar with an impressive rim flow pool that overlooks a watering hole, all interlinked by a sweeping wooden deck that leads to the boma area.
As night sets in, lanterns and candles are lit and the mood goes from bush to baroque. Guests return from their game drive to be presented with a bush extravaganza dinner, prepared by Tuningi's Executive Chef, in the boma with a blazing log fire to keep them warm.
Tuningi's game rangers are of course highly qualified but more than this they have a skill for making guests feel passionate about the environment and wildlife while offering a unique opportunity for those willing to be educated on many aspects of wildlife and bush etiquette either on foot, for those brave enough, or in 4x4 open air vehicles. Lion, elephant, buffalo, white and black rhino, leopard and the rare and endangered wild dog are only some of the unique sightings to experience during your stay.