Join African Timeout on a half day Tour for "An Elephant Experience For Life"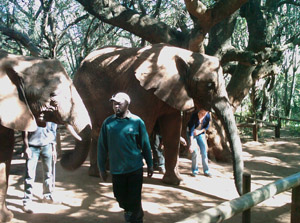 At The Elephant Sanctuary, you will be hosted in small groups, by an experienced guide who will take you through an educationally-oriented elephant experience. Your guide will impart a wealth of knowledge to you about elephants in general, as well as afford you the privilege of getting to know our elephants personally. Mosadi Maroela, Khumba, Thandi and Jabu are female elephants . The largest, Mosadi, is approximately 2.4 meters at the shoulder, and at this stage, we are able to look at the elephants in their faces. Each elephant's character and personality is unique and very special, and you will find yourself forming relationships and bonding with them in a very short time. 
Your program , conducted on foot, is a full one, and guests are advised to wear comfortable clothing and flat, closed walking shoes ... and definitely bring a camera. You will move around quite a bit, but not great distances, and during this time, will experience the elephants walking very close to you within a forest area; you will observe from a tree house deck, the elephants at play; you will be able to touch and feed and interact with them; and you will break away to an exquisite mountain/waterfall area. Your Elephant experience is one you will cherish and remember forever.
Duration
Total Distance
Departure Times
Notes
5hrs
130km
Dep 06:00,08:00&12:00
Elephant riding is extra
R550