Johannesburg -Victoria falls-Krugernational Park-Swaziland-Pongola-Hluhluwe-Lesedi Culture Village-Johannesburg
Day 1: (Johannesburg /Victoria Falls)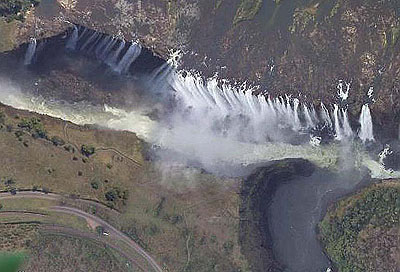 Arrive at Johannesburg International Airport at 09:30. Your adventure begins as you arrive at OR Tambo International Airport The African Timeout representative will be there to greet and assist you with your mid-morning flight to Victoria Falls. On arrival at Victoria Falls airport you will be met and transferred to your hotel The Kingdom, check in and lunch before departing for an afternoon guided tour of the famous Victoria falls Mosi-Oa-Tunya- "The Smoke That Thunders" stretches over 1,5 km as it plunges over 100m into the Zambezi gorge below. When David Livingston saw the falls for the first time in 1855, he wrote" scenes so lovely must have been gazed upon by angels in their flight". A sunset cruise on the Zambezi before you return to your hotel for Dinner BB


(Day 2: (Victoria Falls / Johannesburg/ Hazyview
Early breakfast and some leisure time to visit the African craft village and the town of Vic Falls until your transfer to the airport for your return flight to Johannesburg International Airport. On arrival at Johannesburg International Airport your African Timeout safari guide once again meets you and within minutes we will be on our way to Mpumalanga and the scenic Lowveld. Late afternoon we reach our overnight destination Hazyview D/B/B
Day 3: (Hazyview /Kruger National park)
Early breakfast and depart what is known as the Panorama Route When the morning mist have cleared to reveal some of South Africa's spectacular scenery such as Blyde Canyon Bourkes Luck potholes and Gods Window. We continue to the heart if South Africa wild life country, the famous Kruger National Park where we start our safari The excitement begins with camera at the ready, hoping to find lion and other species, such as giraffe, elephant, rhino, zebra and antelope. We arrive at our rest camp late afternoon for dinner and overnight. As the sun set sip a sun downer while your safari guides prepare your evening meal Overnight Satara D/B/B

Day 4:( Kruger National Park)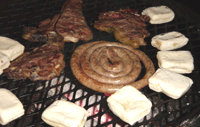 Another early wake up call before sunrise and then game viewing and a chance to find those elusive animals you have missed We continue onto our next rest camp via Tshokwane for a bush brunch (picnic breakfast) at a water hole or camp site After brunch game viewing until we reach our overnight accommodation in a Rest camp for dinner and overnight. Late afternoon we depart for our spotlight night drive in open vehicles conducted by a park ranger Return to Camp for a late dinner.
Day 5: (Kruger National Park-Swaziland-Pongola)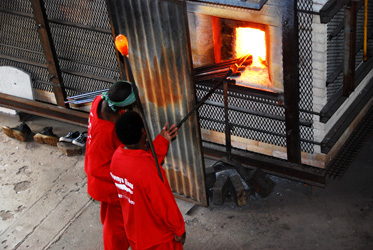 Awaken at dawn and listen to the sound of animals and birds. After tea or coffee we drive out of camp for another early morning game drive and breakfast, before setting out on the next leg of our tour. Today we enter the Kingdom of Swaziland an independent member of the British Commonwealth. Swaziland is known for its lovely scenery, superb crafts, colorful indigenous culture One of the more interesting stops is at the Ngwenya

glass and candle factory Once through the southern border post we re-enter South Africa and travel on towards Zulu land In this region the rolling hills and lush vegetation is markedly different from those experienced in the Kruger National Park area We reach our Out of Africa style game lodge in the late afternoon, check in and enjoy a sundowner next to the pool overlooking the Pongola dam before dinner is served. Overnight at the White Elephant lodge. D/B/B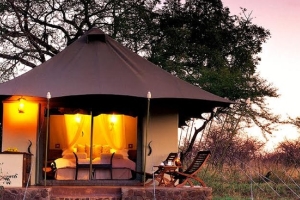 Day 6: (Pongola)
This morning after a scrumptious breakfast we depart for the highlight of our tour this is elephant tracking. Today is the elephant tracking and game viewing day by qualified game ranger .We proceed to track elephant in vehicles by means of the telemetric system. Once the elephants have been found time is spent viewing and monitoring the herd. This "Close Encounter" is the ideal opportunity for noting behavior, feeding patterns and social structure. You will also have the opportunity to view and observe other game that coexists with the elephant including white Rhino, giraffe, hippo, crocodile, dung beetles, warthog and a variety of antelope. Lunch and High tea is served on the great lawns.Afternoon game drive finishes off our day before dinner. Dinner and overnight White elephant Lodge. D/B/B/
Day 7:(Hluhluwe)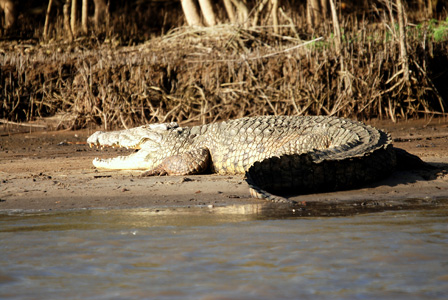 Today is "catch your breath day". After a leisurely breakfast and a short drive to Hluhluwe the day is spent relaxing and exploring the town of Hluhluwe. Our afternoon is occupied by a boat cruise on the World heritage site estuary Lake St. Lucia, spotting Hippos, Crocodiles and many water birds. The greater St. Lucia Wetlands Park stretches along the Zululand coast from Mapelane in the North to Sodwana in the South. Between these two points is one of the most fascinating ecological reserves in the world. Five different ecosystems combine with stunning scenery. Dinner and overnight in local guest house. D/B/B
Day 8: (Hluhluwe)

A early breakfast and departure for the oldest game reserve in Africa HluHluwe Umfolozi Park established in 1895 and approximately 96000 ha A tour of HluHluwe with opportunity of seeing the Big 5 a We return to HluHluwe for dinner and overnight.
Day 9: (Hluhluwe- JHB - Lesedi)
After a early morning leisurely breakfast we depart for Johannesburg and Lesedi Cultural Village. On arrival we check-in and are shown to our traditional huts in the homestead, twin-bedded rooms each with its own private bathroom beautifully fitted out with modern conveniences.. Join us for a cultural experience and let the Lesedi dancers take you into the heartbeat of Africa Concluding with our Nyama Choma farewell feast. Dinner and overnight at Lesedi Protea Hotel.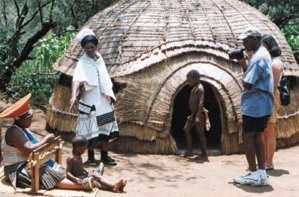 Day 10: (lesedi-Johannesburg international)
After breakfast we depart for De Wildt cheetah breeding station. De Wildt offers you the opportunity to learn more about fascinating creatures such as the wild dog, cheetah, suni and various species of owls and vultures. You can also read more about the humble beginnings of what has become one of the world's foremost institutions on captive breeding of cheetah,The afternoon is spent with some shopping opportunities depending on flight details. Johannesburg International Airport for your return flight.