Don't have lot of time ,or want to see all there is to see in Johannesburg and Pretoria ,join African Timeout for a helicopter flight to remember.
 

The Robinson R44 Raven II enjoys a high range of distribution worldwide due to its reliability and range of application and is, because of this, an integral part of our fleet. One pilot and up to three passengers find their places in the Robinson R44 Raven II.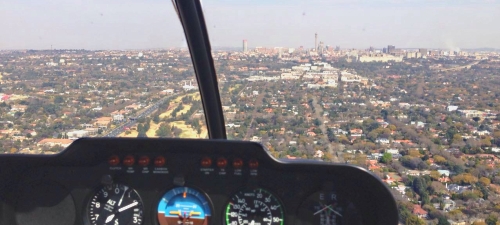 Scenic Flights in the Gauteng Area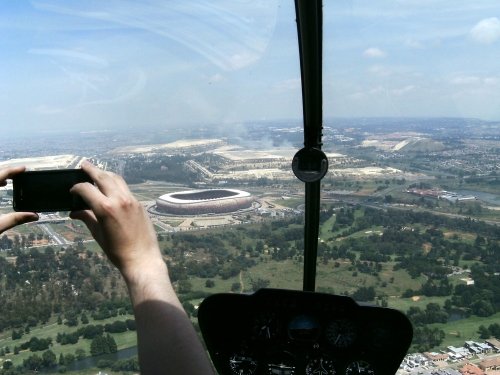 35 minute Joburg City Skyline Scenic R pp
Enjoy the City of Gold's skyline up close. Flight around JHB CBD, Ellis Park, Gold Reef City, Soccer City and JHB Zoo. (1-3 people in helicopter)
35 Minute Sandton Skyline R pp
Direct flight to Sandton with en route view of Botanical Gardens. See Joburg, Rosebank, Melrose, Randburg, Alexandra and Monte Casino in the back drop whilst you get a view Sandton. (1-3 people in helicopter)
35 Minute Hartebeesport Dam Scenic Rp
Fun flights over Krugersdorp Game Reserve, around Hartebeespoort Dam, over the dam wall, cable car & majestic Malgaliesburg mountain range. (1-3 people in helicopter)
Special Moments Helicopter Packages (Couples)
Heli Romantic Picnic R  per couple
Arrive in style at a romantic picnic destination. Includes:
• 20 Minute Chopper Time
• 90 Minute Picnic
• Bottle of Champagne
Heli Safari and Elephant Interaction & a Spot of Lunch R pp
Enjoy the scenery around the Hartebeespoort Dam on a flight to a game lodge for interaction with the elephants and a quick lunch. Includes:
• 1 Hour Chopper Time
• 30 Minute Elephant Interaction
• 1 Hour to Enjoy a la Carte Lunch (own expense)
Heli Tour and Quad Bike & Riverside Champagne Picnic R pp
The ultimate romantic adventure experience. Fly around Hartebeespoort Dam and land for a Quadbike and Champagne Picnic. Includes:
• 1 Hour Chopper Time
• 60 Minute Quad Biking
• 45 Minute Picnic
• Bottle of Champagne
Executive Flight and Dine R pp
Whisk away to Casalinga Ristorante or De Hoek Country Hotel and enjoy a fine dining experience. Includes:
• 1 Hour Chopper Time
• On Board Bottle of Champagne
• 90 Minute Dining
• Set Menu
Sun City Day Trip R pp
Helicopter transfer to the Lost City to enjoy the day there. Includes:
• 90 Minute Chopper Time
• Direct Flight
Adventure Packages (Individuals)
Experience Flights R  per person
LAST SATURDAY OF THE MONTH
Includes:
• 10 Minute Flip
• Operating Time 10h30-14h30
Black Ops Mission R per person
Low level adventure flight. Insertion and Extraction with some Paintball action. Includes:
• 20 Minute Low Level Flight
• 90 Minutes of Paint Ball
• Paintball Equipment
• 100 Paintball Rounds
• Minimum 3 People Required
Ideal for Bachelor Parties, Team Building, Adrenaline Junkies & Family Fun
Ultimate Adventure Experience R  per person
Experience what it feels like to be at the controls of a helicopter. on our Self Fly Experience on the Robinson R44. Adventurer receives a certificate on completion. Includes:
• 30 Minute Experience
• Certificate
.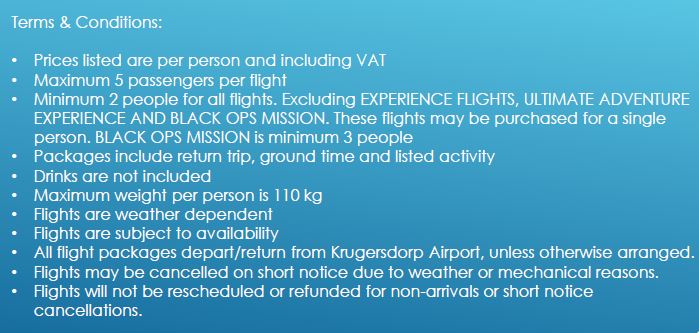 NOTE
Rates quoted are for flights from the Krugersdorp Helipad and return.
All other activities can be arranged but will attract extra cost.
Transfers to helipad will be charged for depending where collection point is.