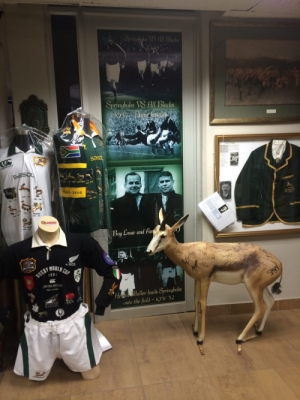 Following the advent of democracy in 1995, Nelson Mandela took to the pitch at Johannesburg's Ellis Park Stadium wearing a Springbok jersey to present the Rugby World Cup trophy to the triumphant Springboks.
This was to be a hugely symbolic moment of post-apartheid reconciliation, a so-called "Mandela moment", when a divided nation became united by sport, and it cemented the stadium's place in the history books.
The stadium, now called the Emirates Airline Park (although it is still popularly known as Ellis Park), is the home ground for the Lions rugby team, and when there are no matches or events here it is possible to take a tour of the stadium with James Dalton Snr, an avid collector of rugby memorabilia.
Dalton Snr runs the stadium's museum, which contains hundreds of items of sporting memorabilia relating to the national team, and the local teams who played here over the years, as well as signed shirts, caps, boots and balls from all of rugby's major national teams.
A behind-the-scenes tour of the stadium starts at the museum, before taking in the changing rooms, commentary booths, the dugout and the pitch, and Dalton Snr regales visitors with tales of great sporting victories along the way
Duration
Total Distance
Departure Times
Notes
4hrs
150km
Between 09:00&14:00
Entrance fees Included