Closed at present 
Lesedi Cultural Village Tour 
Visit LESEDI "the Place of Light" where 5 different cultures reside and learn how they live and taste traditional food.


We proceed to Lanseria where we discover the diverse cultural wealth of South Africa's indigenous peoples.
Meet some of the Pedi Zulu, Xhosa and Basotho. Let your pulse beat to the original rhythms of Africa Excite your taste buds to traditional foods and experience African dancing at its best.
Amidst a pristine environment of African bushveld but with all the comforts of a top-class destination, you will meet 'head on' the tradition, myths and magic of Africa
This tour includes lunch or dinner in an African Boma
A UNIQUE DAY EXPERIENCE AT LESEDI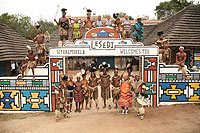 Lesedi offers two unique day experiences in themselves where guests can share the excitement and warmth of true rural African culture.
The morning program at 11H30, known as the Monati experience and the late afternoon program at 16H30, known as the Boma experience.
Both experiences follow the following program :
- Arrive in our car park to a vibrant traditional African welcome and a refreshing welcome drink;
- Browse in our Ndebele village and craft market where Ndebele murals decorate the walls & courtyard;
- Attend a multi-visual theatre presentation on the history and origin of our people;
- Guests are divided into smaller groups and taken on a guided tour of our five homesteads:
Zulu, Xhosa, Basotho, Ndebele and Pedi.
- After a few drinks in the bar, guests and the families meet back in the Traditional Dance Boma for The Giant Ingoma - song and dance of all five villages. The dance culminates in communal dancing with
the guests around the fire.
- A Pan African Feast is served in the Nyama Choma restaurant with delicacies from North, East and
South Africa.
Excludes Refreshments
Duration
Total Distance
Departure Times
Notes
4-5hrs
160km
Dep 10:00 for Lunch exp
15:00 for Dinner experience
Meal Included,drinks excluded
Available